Are you concealed carry license holder and wondering if you can carry on your trip to Disney Springs? As a responsible gun owner it's always good to check things like this before you go.
The answer is no, you cannot carry a concealed weapon at Disney Springs even if you have a CCW permit. The Walt Disney World Resort has a strict policy against firearms and other weapons on their property. This includes all of the parks, resorts, and shopping areas such as Disney Springs. Even if you have a valid concealed carry license, it is not allowed on the premises.
If you are caught with a weapon on Disney property, you could face serious consequences.
Disney Springs, just like all of Walt Disney World Resort areas, is private property and has the company has the right to ban firearms and other weapons from their property, including their parking lots.
Does this apply to hotels too?
What about off-duty law enforcement?
How about employees and vendors?
What are the consequences if you are caught with a firearm at a Disney property?
Does this mean that you should feel less safe at any of the Disney properties?
In this article, we'll explore the gun and weapon policies at Disney Springs and discuss how Disney security makes sure you're as safe as you can possibly be when visiting any part of Disney.
Before we get started, if you're a fan of all things Disney and love discussing theme parks and planning Disney vacations, then I want to announce the launch of my new private Facebook group, the Disney Park Advisor Community. This is a place where Disney fans can come together to share their love of all things Disney, ask questions, get advice, and make new friends. Click the link to request membership. I can't wait to see you in the group!
Disney Springs gun and weapon policies
Disney strictly prohibits the possession of guns or any other weapons on their properties, including all areas of Disney Springs, the shopping center, restaurants, entertainment venues and parking lots. [1] Furthermore, any items that may be mistaken for a weapon must also be left at home. Additionally, visitors are subject to metal detector screenings and bag checks during certain parts of their visit as a safety precaution. As a cautionary measure, all visitors are encouraged to review prohibited items listed by the resort before arrival.
To ensure guest safety and security while visiting Walt Disney World resorts and its properties, they have adopted an "No Weapons" policy. This means there are no exceptions to this rule under any circumstances; therefore it is essential that visitors adhere to these mandatory regulations at all times.
The Walt Disney World Resort website lists the following items as prohibited:
Firearms, ammunition, knives and weapons of any kind.
Self-defense or restraining devices (e.g., pepper spray, mace)
Marijuana (including marijuana enriched products) or any illegal substance.
Objects or toys that appear to be firearms or weapons.
Fireworks or other similarly explosive and/or flammable objects, smoke machines or fog machines.
You will be screened prior to your entrance to Disney Springs
Disney Springs takes the safety and security of its guests seriously. In order to ensure the safety of all visitors, the property has implemented a number of security measures to screen guests and prevent the introduction of prohibited items onto the premises.
Upon arrival at Disney Springs, all guests are subject through security checks before entering the property. Everyone goes through these security screenings prior to entering the Disney Springs area – a metal detector, potential wand check, and bag check with screening procedures that are the same procedures in place prior to entering the parks.
The Disney security team is trained to detect and prevent the introduction of prohibited items, such as firearms and other weapons, illegal substances, and other dangerous or disruptive items.
Disney Springs also has a strong security presence, both seen and unseen, with trained security personnel and law enforcement officers patrolling the property.
Concealed carry at Disney Springs
Disney Springs is private property, and they have the right to ban firearms and other weapons from their property, including their parking lots. That includes Disney Springs and basically everywhere on Disney property.
Both Disney Resorts and Universal Orlando prohibit firearms, as well as other items that can be used as weapons or have the appearance of weapons.
If you are caught carrying a firearm at Disney Springs, you will be asked to leave the property and receive a trespass warning. If you do not have a CCW permit, you  can guarantee that you will be arrested and charged with possession of a concealed firearm.
Bottom line:
Don't bring your firearm to Disney with you. It doesn't matter whether you're concealed carry license holder or not. Because Disney is private property they have the right to dictate what can and cannot be done on their premises.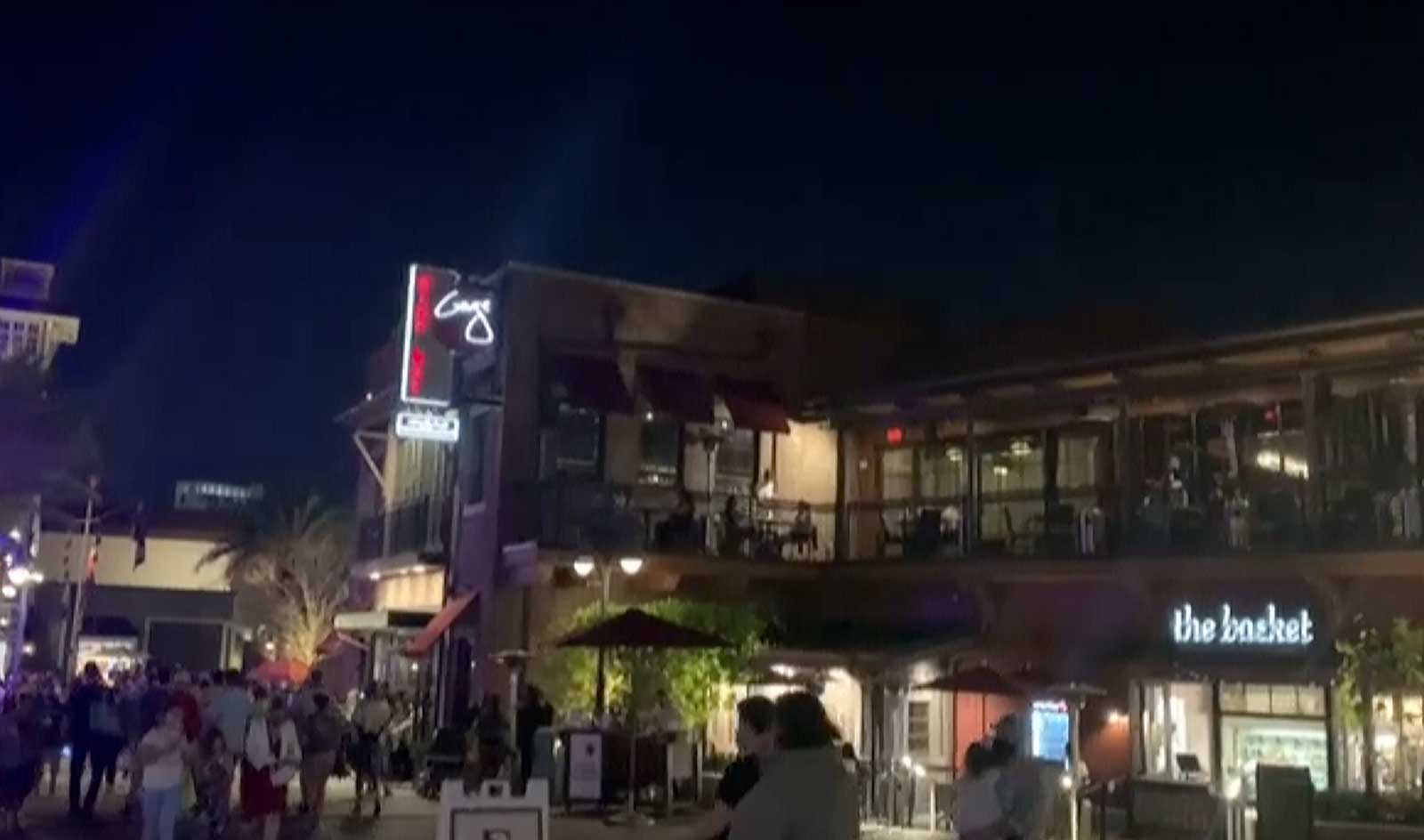 Other Walt Disney World parks
When heading to a Walt Disney World park, like the Magic Kingdom or Epcot, you must abide by their weapon policies there too. At Disney Springs and all other parks operated by Disney, firearms are strictly prohibited. This policy applies to any type of gun or weapon, even replica weapons that could be mistaken for real ones. Guests should leave all firearms at home before they visit any of the parks associated with Disney World.
It's important to note that these rules do not apply only to Disney Springs but also extend to other Walt Disney World parks as well.
Walt Disney World Resort Hotels
The same policies apply to hotels on Disney property too.
Disney Resort Hotels, Disney Vacation Club Resorts and campgrounds are places where families and individuals come to relax and enjoy their vacations. In order to ensure the safety and enjoyment of all guests, the weapons prohibitions apply here too.
That means you cannot bring your weapon to your into hotel room.
Can a law enforcement officer carry their weapon at Disney?
Disney's policy against weapons extends to off-duty law enforcement personnel, with the exception of those employed by Orange and Osceola Counties and Federal agencies. These officers must check with their departments and Disney's security services to ensure compliance with the policy.
This policy ensures that only on-duty officers have access to weapons, and that any weapon usage must be acknowledged and authorized by Disney authorities as part of their safety measures. The policy is strictly enforced to provide a safe and secure experience for all guests at the parks.
Metal detectors are used to screen all guests upon entry, and Disney security is ever-present and ever-vigilant. Any person found to be carrying a firearm will be immediately removed from the premises in accordance with the policy.
Employees and firearms at Disney Springs
Employees of Walt Disney World are prohibited from carrying firearms on any of its property, including the 48 square miles of land in the Orlando area hosting Disney Springs and other parks. This comprises the entirety of Walt Disney World's owned properties, which encompasses rides, restaurants, hotels, and stores.
Every employee on-site is barred from bringing a firearm to work or possessing one while at work in any way shape or form outside of trained, armed security.
Furthermore, this stance is one not just limited to active Walt Disney World employees – it extends to personnel such as vendors and contractors who need to access the premises for business purposes.
The prohibition against guns is backed up by stringent security measures throughout all areas of Disney Springs and other parks that seek to ensure this promise is fulfilled.
Consequences of carrying a firearm at Disney Springs
If you are caught carrying a firearm at Disney Springs, the consequences can be severe. If you are "caught" carrying your firearm on your person, with a valid CCW permit, or a license otherwise recognized under current reciprocity laws in the State of Florida, you may simply be asked to either store the firearm with Disney's security services and/or to leave the property immediately.
If you try to bring a firearm into a theme park or pass through the parking garage metal detectors at Disney Springs, you may be asked to leave and receive a trespass warning. This warning may prevent you from entering any of the theme park's property in the future.
If you haven't guessed by now, Disney takes security very – very – seriously; you do not want to run afoul of their policies if you plan on enjoying your time at the Walt Disney World Resort.
All it takes is a quick Google search to see the number of people who've been arrested and banned for life for testing the fences of Disney's security.
Does this mean that I'm not safe at Disney?
If you're a concealed weapons license holder, these policies may seem a little severe.
However, this doesn't mean that visitors will be left unprotected or that you're in any danger; the parks have certified on-duty law enforcement agents assigned to the park's grounds at all times, providing around-the-clock protection should there be any criminal activity or disturbances.
Disney Springs has a strong security presence, with trained security personnel and law enforcement officers regularly patrolling the property.
Disney Springs utilizes a number of other security technologies to ensure the safety of its guests including stuff that you can see like surveillance cameras, uniformed law enforcement presence, bomb-sniffing dogs, and metal detectors.
Then there is all the stuff that you cannot see like under cover security staff, and other specialized services and equipment to detect and deter potential threats.
Once inside, visitors are subject continuously monitored by security cameras and personnel stationed throughout the location.
Any breaches of security policies (including weapons possession) will likely result in swift action on behalf of law enforcement officials.
All that points to the fact that you are as safe as you can be on Disney property and that should give you a great sense of relief and help you to relax and enjoy your time on property!
Nexts Steps
The next step is connect with other Disney fans. Join the Disney Park Advisor Community group to connect with other Disney fans and get tips and advice on planning the perfect Disney vacation. This private Facebook group is the perfect place to share your love of all things Disney and get insider knowledge from other Disney enthusiasts. Simply click the link below to request membership and become a part of our community.
Resources
https://disneyworld.disney.go.com/park-rules/