Are you looking for a convenient way to get food delivered right to your hotel room while visiting Disney Resorts? You can try traditional delivery services like GrubHub, or you can check out the ever-growing subscription-style food delivery service called DoorDash.
But do they deliver to Disney Resorts?
Yes, DoorDash is one of the food delivery services available at Disney resorts. Guests can meet the driver at the portico or some resorts may allow delivery to the room. 
But what about fees – do they charge extra to deliver to Disney resorts?
Will they deliver straight to your room?
Can the hotel front desk hold food for me if I order when I'm on my way back from the parks?
In this article, I'm going to give you all the details on getting DoorDash at Disney Resorts. Knowing how DoorDash works can help simplify your trip immensely in terms of planning meals that are more affordable than eating at Disney restaurants all the time and convenient!
Before we get started, if you're a fan of all things Disney and love discussing theme parks and planning Disney vacations, then I want to announce the launch of my new private Facebook group, the Disney Park Advisor Community. This is a place where Disney fans can come together to share their love of all things Disney, ask questions, get advice, and make new friends. Click the link to request membership. I can't wait to see you in the group!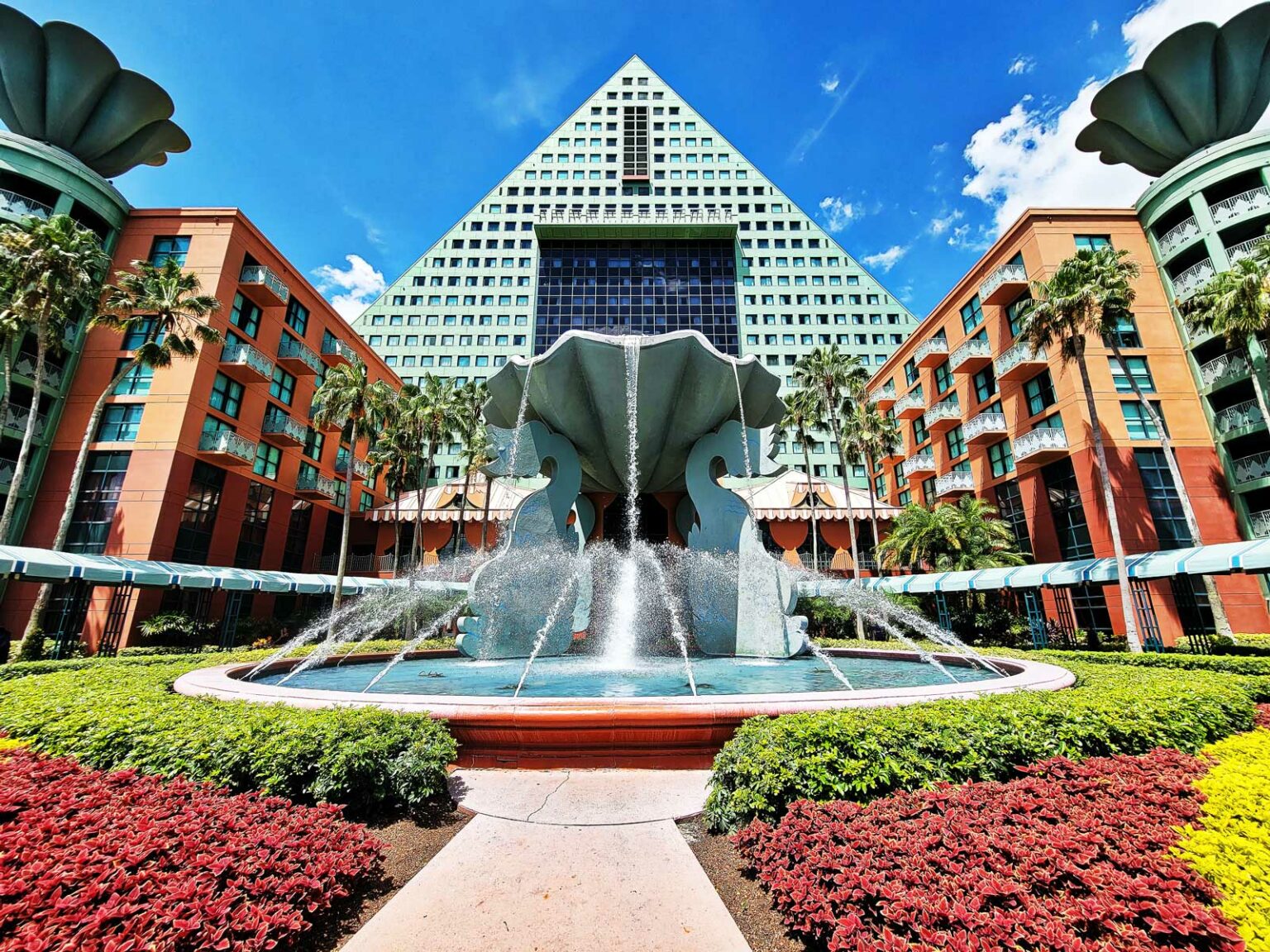 DoorDash Delivery Options
DoorDash is a widely available delivery service at Disney World resorts, providing guests with an extensive variety of meal options as alternatives to what's already available on Disney property from popular restaurants. Whether you are looking for a quick yet delicious snack or a more formal meal, there is sure to be something on the DoorDash menu that suits your tastes.
I can't remember a time we've been to Disney when we didn't venture off Disney property to grab a quick bite to eat from something that wasn't touched by the power of Disney's "magical" pricing.
DoorDash is able to bring the convenience of something different to eat while you're on vacation right to Disney World resorts, allowing you to enjoy a variety of meals from popular restaurants without ever leaving the comfort of your hotel room.
DoorDash is available at all Disney World resorts, including the All-Star Resorts, Animal Kingdom Lodge, Art of Animation Resort, Beach Club Resort, BoardWalk Inn & Villas, Caribbean Beach Resort, Contemporary Resort & Bay Lake Tower, Cor onado Springs Resort, Fort Wilderness Resort & Campground, Grand Floridian Resort & Spa, Old Key West Resort, Polynesian Village Resort, Pop Century Resort, Port Orleans French Quarter & Riverside Resorts, Saratoga Springs Resort & Spa and Wilderness Lodge.
Popular restaurants featured on DoorDash include Subway, McDonalds, Wendy's, Five Guys, Firehouse Subs and Chick Fil A. We love burritos so Moe's is something we love to have when we want something simple. With such a wide selection of entrees from established restaurant chains, you can easily find something you know and love while you're away from home.
DoorDash Fees and Minimum Orders
These apps make their money by charging fees on top of the price of your food order, so it should come as no surprise that fees for your order will usually fall between $0.99 and $10 or more per order, and they may charge a service fee of up to 18% on every order.
Additionally, some restaurants may have a minimum order amount that you must meet in order to place an order, and will charge a small order fee if the total value of your order doesn't reach the minimum requirement. Of course if you're buying for you and your family while you're on vacation at Disney World, reaching minimum order thresholds shouldn't be a problem!
Tipping the driver who delivers your meal is expected, so be prepared to leave an appropriate tip for the driver's effort in bringing you your food.
DoorDash also offers promotions and discounts for first time orders for food delivery at Disney World resorts, making it even more economical for visitors looking for a delicious option without breaking the bank.
Meeting the DoorDash Driver
When waiting for delivery at Disney World, it's really important to stay nearby with your phone either at your hotel or near the area you are expecting the delivery. Disney World property can be difficult to navigate, especially with all the construction and changes that have happened over the last few years, and some places are can more difficult to find. As a result, delivery drivers may have difficulty finding you if you stray too far away from where they were sent.
If you won't be available when the driver arrives, hotels may be able to accept the order on your behalf; however, most hotels are not equipped with the necessary supplies to keep your food hot, or refrigerate your food.
Some resorts may also allow for deliveries directly to guests' rooms in certain cases but this varies across resort types so check with your concierge desk to see what the policy is for your resort.
DoorDash Delivery Time
When ordering from DoorDash to your hotel at Walt Disney World Resort hotel, delivery times can vary due to time of day, time of year, and other factors. Traffic around Disney property can get really congested during certain times, so keep that in mind if you're planning on ordering.
However, DoorDash will provide approximate delivery windows so that customers will have a general idea of when their order will arrive. If there is an issue with the order, customers can easily track their deliveries and contact customer support for assistance.
Furthermore, DoorDash is fully committed to providing excellent service to its customers and will take full responsibility if errors are made in an order and make sure the customer receives their correct order. This way they can be sure they receive exactly what they ordered without any hassle.
Food Delivery Restrictions
Unfortunately, ordering food from restaurants located within the Disney parks for delivery is not available (if they ever figure this part out I would love to have some of that French Onion Poutine delivered from Le Cellier in the Canadian Pavilion at Epcot, but I digress). However, some locations in Disney Springs are accessible through DoorDash for delivery. Furthermore, depending on location, alcoholic beverages may also be available for delivery.
Other than that, as long as the restaurant that you want to order from is available on the app, and you're ok with the fees that they want to charge for your order, you're good to go!
By the way – one thing you should be cautious about is flyers that you find on your windshield or on your door at your hotel.
You should always be cautious. These flyers could potentially be part of a scam that targets individuals in order to obtain their personal info and credit card details.
If anything looks suspicious, or sounds too good to be true, there are so many other trustworthy and validated options, so stick to what you know is safe and secure.
Saving Money on Food
Disney World vacations can be costly, but there are ways to save money on your food expenses. DoorDash food delivery is a great option that not only saves you time and hassle, everyone in your party can enjoy something a little different while on your Disney vacation. With so many options available for delivery, it's easy to find something for everyone in the group and still save money on meals throughout your Disney World vacation!
Whether it's breakfast, lunch or dinner, with DoorDash you'll have no problem finding delicious dishes that fit both panel and pocketbook – anywhere at Disney World!
Nexts Steps
The next step is connect with other Disney fans. Join the Disney Park Advisor Community group to connect with other Disney fans and get tips and advice on planning the perfect Disney vacation. This private Facebook group is the perfect place to share your love of all things Disney and get insider knowledge from other Disney enthusiasts. Simply click the link below to request membership and become a part of our community.