Have you been dying to visit one of the Walt Disney World Resort's magical pools? Though it is tempting for guests to take a dip in any of the resort pools, that may not be an option.
Do Disney Resort Pool policies vary depending on which hotel you are staying at? Can you go to different Resorts and swim in their pools even if you are not a guest there?
Guests staying at a Disney World resort can use only the pool at their own resort, but there are a few exceptions. All-Star Resort guests can use the pools at any All-Star Resort, Port Orleans Resort guests can use the pools at both resorts, DVC owners can use other DVC resort pools during non-blackout periods, and on-site guests with a Cabana reservation at the Contemporary or Grand Floridian can access those pools.
So, what are the rules for accessing the pools at Disney World's resorts?
How is supervision enforced for children at the Disney World resort pools?
How does Disney enforce the rule against pool hopping at their resorts?
I'll answer all these questions and more so that you can rest easy knowing where you can and cannot swim while visiting Disney.
Before we get started, if you're a fan of all things Disney and love discussing theme parks and planning Disney vacations, then I want to announce the launch of my new private Facebook group, the Disney Park Advisor Community. This is a place where Disney fans can come together to share their love of all things Disney, ask questions, get advice, and make new friends. Click the link to request membership. I can't wait to see you in the group!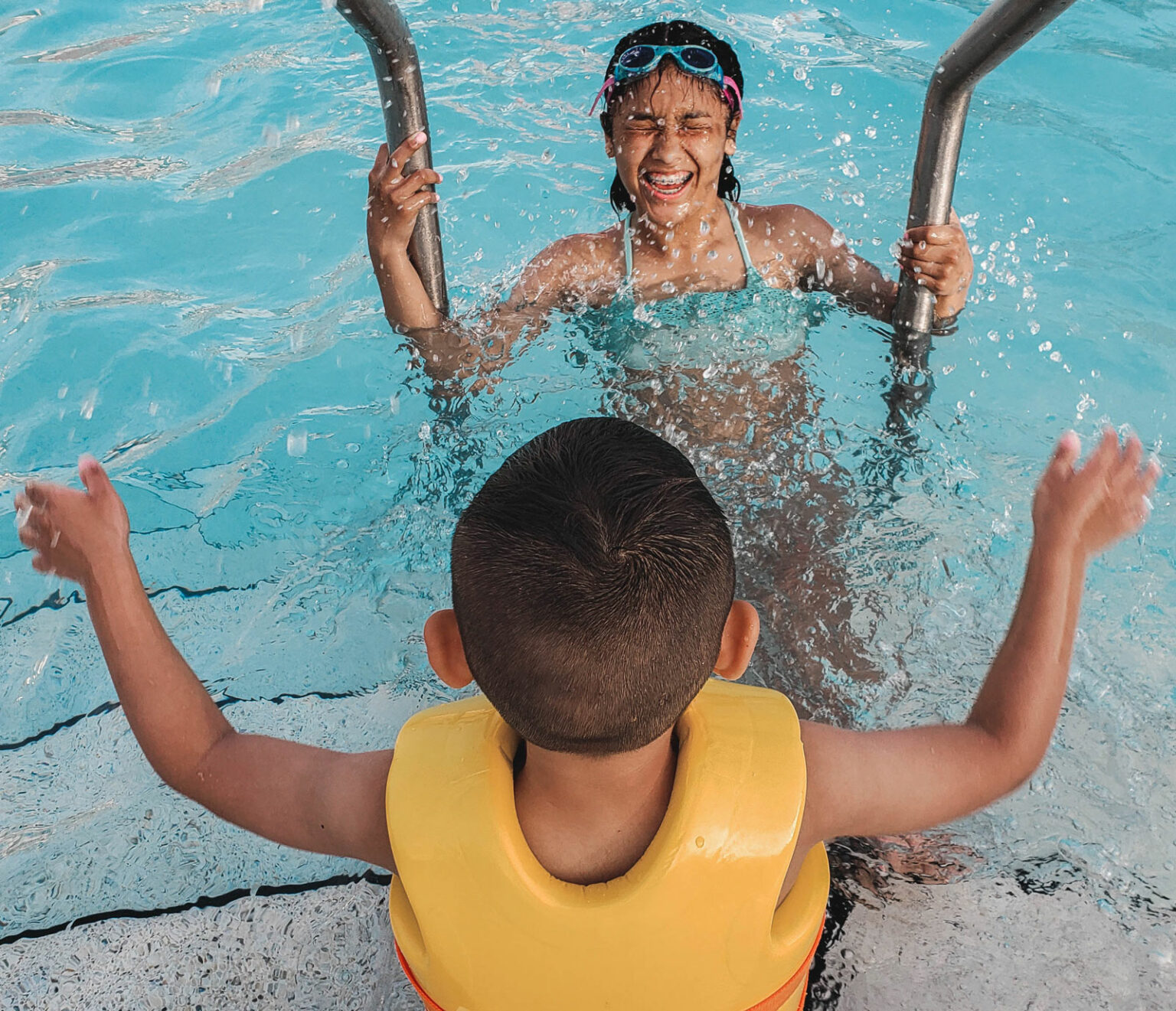 Pool Rules at Disney Resorts
When it comes to using the pools at Disney World's resorts, there are a few rules that guests should be aware of. These rules are in place to ensure the safety and enjoyment of all guests and to keep the pools clean and well-maintained.
If you're trying to get into one of the resort pools, you'll need to scan a MagicBand, your phone (MagicMobile) or a Key To The Room Card. Make sure that the information used for scanning matches what the resort has on record for you – if not, then you won't be allowed to enter.
Supervision
Visiting the swimming pool at Disney World is a great experience for everyone and keeping safe is critical. That's why children under the age of 12 must be supervised by an adult at all times, for their safety and the safety of other guests.
Diapers
If you have children that are still wearing diapers, it's important to remember to dress them in swim diapers or plastic pants before entering the pool. This is a strict rule that must be followed to ensure the cleanliness of the pool for everyone and prevent any accidental messes from polluting the water. All swim diapers and plastic pants should be put on securely and checked regularly to prevent any leaks.
Food and Drink
When you're enjoying the day at a Disney resort pool, you have to remember that eating and drinking is only permitted on the deck. To be clear, food and drinks are not allowed in any part of the pool area. If you'd like to indulge in something light or refreshing, it must take place outside of the water on either side. Additionally, glass containers or bottles should be left behind; they aren't allowed inside this space.
Slides
The Value resorts do not have slides, however the main pools at the Moderate and Deluxe-level resorts do have them.
You are welcome to enjoy the slides regardless of your height. However, for your own safety and to ensure fairness for everyone else, only one person is allowed down a slide at any given time and you must not wait at the bottom for someone else. Additionally, be aware that the slides end in water pools where the depths can vary. Because of this, it's important you know how to swim confidently before getting on a slide.
Can You Pool Hop at Disney World?
If you've been to the Yacht Beach & Club and walked by Stormalong Bay, if you're like me, you've been tempted to hop in their lazy river or get on their shipwrecked-themed slide.
I've never done it – though I've been tempted to because it looks amazing. However, access is limited to the guests who are staying at that resort, so despite my temptation , I've never done it. Pool hopping is not allowed at Disney World and if you're caught, you may be asked to leave the pool area.
It is generally not allowed to use the pools of different resorts at Disney World. Each resort's pool is a perk for the guests staying at that resort, and Disney enforces this rule to maintain crowd control and ensure that everybody enjoys their experience.
Exceptions to the Rule
For the most part, visitors at Disney resorts must visit the pool at the resort they're staying if they want to enjoy some pool time. However, there are a few exceptions to this rule.
As an example, if you are staying at any one of the All-Star Resorts (i.e., All-Star Movies, Music or Sports), you can benefit from all the resort pools even when not residing in that particular hotel.
That makes it so much easier for bigger groups who may want to break up a bit and spread out to see what else their Disney Resort has to offer!
Additionally, guests at Port Orleans – French Quarter and Riverside – can also take advantage of the amenities offered between both resorts, including using their swimming pools for a refreshing dip on a hot summer day! So if you're looking for an escape from your home resort, these Disney Resorts offer some special privileges when it comes to accessing other pools.
When it comes to visiting other Disney Resort pools, one of the most notable exceptions is that Disney Vacation Club (DVC) owners who may be allowed to access the pool at another DVC resort, but only during certain times.
Therefore, if you're a DVC owner and looking to explore the different resort pools available at other Disneyland-owned resorts, then make sure you research these potential restrictions before planning your trip. That way, you won't have any unpleasant surprises when trying to take the plunge during your vacation!
How Will Disney Know if You're Pool Hopping?
If you are hoping to take a dip in one of the other resort pools, like Stormalong Bay, here's what you need to know: Your MagicBand, phone (MagicMobile), or room card is needed for access. When scanned at entry points it will check if your resort matches up – If not then unfortunately entry won't be allowed.
When it comes to choosing a resort to stay at during your Disney World vacation, one of the most important factors to consider is the resort's pool if you are planning any kind of pool time at all. Whether you're looking to cool off after a day in the parks, or just want to spend some time lounging in the sun, the resort pool can be a major draw for many guests.
Here are some of the top options to consider:
Stormalong Bay at Disney's Yacht and Beach Clubs – This massive pool complex is often considered the best at Disney World, and for good reason. With a sand-bottomed, shipwreck-themed area, multiple slides, a lazy river, and even a kiddie play zone, there's something for everyone at Stormalong Bay.
Big Blue Pool at Disney's Art of Animation Resort – This Finding Nemo-themed pool is perfect for families with young children. The zero-entry design makes it easy for little ones to wade in, and the interactive water play area is sure to keep them entertained.
Dig Site at Disney's Coronado Springs Resort – This Mayan-themed pool is perfect for older children and adults. With a large, main pool, a hot tub, and a slide, there's plenty to keep guests entertained.
Lava Pool at Disney's Polynesian Village Resort – This gorgeous pool is perfect for those looking for a more relaxing experience. The tropical-themed pool is surrounded by lush vegetation, and there's even a nearby bar where you can grab a drink while you soak up the sun.
The Quiet Pool at Disney's Grand Floridian Resort – This secluded pool is perfect for guests looking for a more peaceful experience. With a small hot tub, plenty of lounge chairs, and a nearby bar, this pool is perfect for those looking to unwind and relax.
Overall, these are some of the best pools to be found at Disney World resorts. Each of these pools offers something unique and different, so it's important to consider what you and your family are looking for in a pool before making a final decision. Whether you're looking for a mini water park experience or a more secluded retreat, there's a pool at Disney World that's perfect for you.
Pool Slides
One of the highlights of staying at a Disney World resort is the opportunity to take a dip in one of the many beautifully themed pools. But for some, the real draw is the water slides. Many of the Disney World resort pools have water slides, but not all of them do.
The value level resorts, such as Art of Animation, Pop Century, and the All-Stars trio, do not have water slides. However, many of the moderate and deluxe resorts do have at least one slide. The size and length of the slides vary depending on the resort, with higher level resorts generally having longer and taller slides.
There are no posted age or height requirements for the resort slides, but all guests must be able to go down the slide completely on their own. No lap-riding is allowed. Typically, the youngest guests on the kiddie-size slides will be around 2-3 years old and the youngest guests on the bigger slides will be around 4-5 years old.
Water depth can range from resort to resort, but typically averages about three-and-a-half feet. If your children want to slide down but lack the swimming abilities or confidence for it, life vests are available at each pool! Parents can also be stationed by the bottom of the slides should they need extra support and peace of mind.
When visiting a water slide, it is essential to keep in mind some basic guidelines. The rule, as enforced by the cast member life guards at every pool, is to make sure that only one rider slides at any given time and always remember to go feet first. During the ride, make sure not to stand or rotate while on the slide and be aware of your body parts staying within its boundaries. It's also necessary required for guests to swim away from the area immediately after entering into the pool below.
Hot Tubs
Disney may refer to them as "spas" but I think of them as hot tubs. Hot tubs aren't in every resort and really are only found in some of the moderate and deluxe resorts.
Unfortunately, the value resorts do not have any spas. While most moderate and deluxe resorts supply these facilities, it is important to note that this isn't always true across the board.
Hot tubs are always a great option for relaxation and fun, however there are some things to consider before taking them for a dip. As the water is set at 104 degrees Fahrenheit, it can be too hot for certain people. Despite this safety measure in place, guests of all ages have access to use the spas– but anyone under twelve years old must have an adult present when using them.
It's also important to note that there are some pool rules that apply to the hot tubs as well. For example, guests are not allowed to stand, kneel or rotate while in the hot tub. And, as with any pool area, guests are encouraged to be mindful of their own safety and the safety of others.
Overall, hot tubs can be a great way to relax and unwind after a long day of touring the parks or enjoying other activities at the resort. Just be sure to check with your specific resort to see if they have a hot tub and whether or not it is available for use during your stay.
Pool Amenities
When it comes to amenities, the pools at Disney World resorts offer a variety of options for guests to enjoy. Many of the pools have water slides, which range from kiddie-size to larger, taller slides. There are no age or height requirements for the slides, but guests must be able to go down the slide completely on their own. Guests should also be aware of the depth of the water at the bottom of the slide, which typically ranges from 3-3.5 feet.
For children who may not have great swimming skills, life vests are available at all the pools. Additionally, guests can wait for their child at the bottom of the slide or have one adult at the top and one at the bottom to assist.
Other amenities include hot tubs, also known as spas, which can be found at most moderate and deluxe resorts. The hot tubs are set to 104 degrees Fahrenheit, and children under 12 are required to have adult supervision when using them.
All the resorts have at least one pool with a nearby bar, where guests can purchase soft drinks, beer, wine, and some mixed drinks. Many resorts also offer cold food items such as prepared salads, sandwiches, and chips. Room service can also be delivered to the pool for those staying at resorts that offer it.
Towels are also provided at most pools, but guests may want to check with their specific resort to confirm.
Overall, the pools at Disney World resorts offer so many different amenities for you to enjoy, from water slides to hot tubs, and food and beverage options to towel service, you'll never be struggling looking for something to do.
Nexts Steps
The next step is connect with other Disney fans. Join the Disney Park Advisor Community group to connect with other Disney fans and get tips and advice on planning the perfect Disney vacation. This private Facebook group is the perfect place to share your love of all things Disney and get insider knowledge from other Disney enthusiasts. Simply click the link below to request membership and become a part of our community.