With more than 100 stores, more than 60 dining options, and 20 plus attractions, shows and events, Disney Springs is a must-see destination if you're planning on visiting Walt Disney World in Orlando.
So how much time should you plan to spend at Disney Springs?
The amount of time most people plan on spending at Disney Springs is roughly 4 hours, or a half-day. If your stay at the Walt Disney World Resort is shorter, then planning on having either your first or last meal there is a great way to maximize your time. If you're planning on staying longer, like 4-5 or more days, then you could even plan on spending an entire day at Disney Springs.
As always, the amount of time you should plan to spend at Disney Springs depends on several factors, such as the specific shops, stores, restaurants and experiences you want to see and do, how crowded the area is during your visit, and how much time you have available. As a general rule, I recommend to plan to spend at least a few hours at Disney Springs to be able to experience the shopping, dining, and entertainment options available.
My family has always included at least one extra day during our vacations where we don't have any plans for any of the parks so that at the very least we can spend time at the resort pool, and get to spend some time at Disney Springs without having to feel rushed.
But with so much to offer, it can be overwhelming knowing just how long you should plan to stay there. Does it require an entire day? Are two days necessary?
This article will give you the answers! We'll look at the best of what Disney Springs has to offer, and provide guidelines on how to get the most out of your time there, so you can leave feeling like you had the full experience.
Before we get started, if you're a fan of all things Disney and love discussing theme parks and planning Disney vacations, then I want to announce the launch of my new private Facebook group, the Disney Park Advisor Community. This is a place where Disney fans can come together to share their love of all things Disney, ask questions, get advice, and make new friends. Click the link to request membership. I can't wait to see you in the group!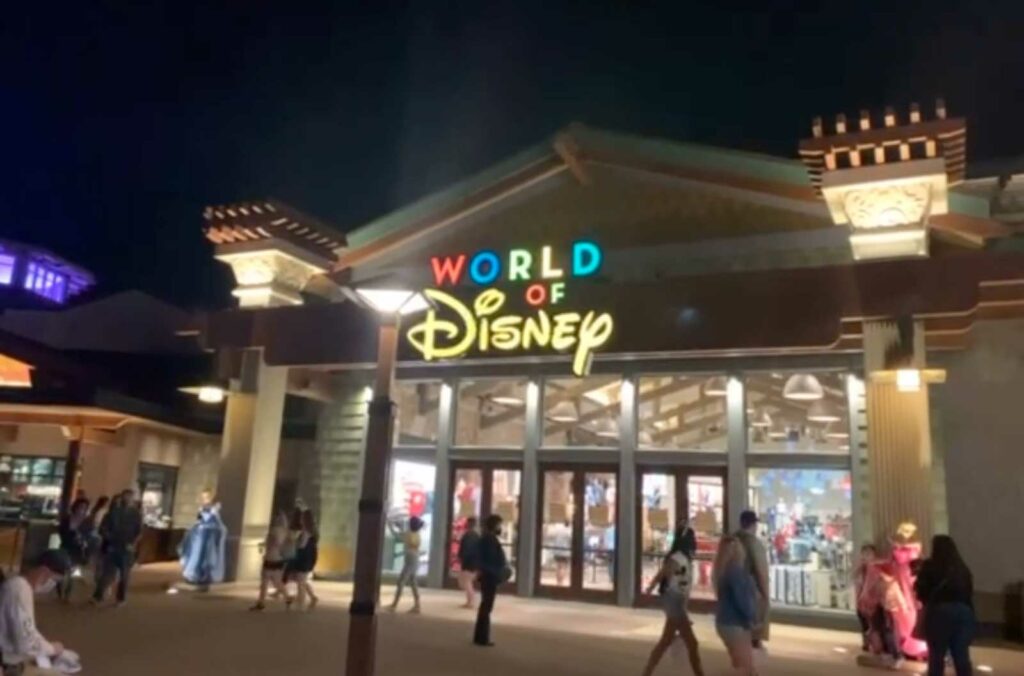 How Much Time to Spend at Disney Springs
Disney Springs is an enormous outdoor shopping, dining, and entertainment complex that offers something for everyone. With over 100 stores, more than 60 dining options, and 20 plus entertainment venues, there's plenty to see and do.
Disney Springs is open every day from 10:00am to 10:00pm, however the exact hours of individual shops, restaurants, and entertainment venues will vary. Shop opening times may vary, with some stores starting at 11:00am and restaurants closing any time between 10:00pm and 11:00pm or later. It's important to check the times of operation for whichever places you plan to visit prior to going in order to ensure they will be open when you arrive because hours of operation tend to change seasonally and often at the Walt Disney World Resort.
When planning your visit to Disney Springs, it's important to know what to expect so that you can plan the amount of time you spend there accordingly.
Don't make the mistake and by thinking this is the same little place that it used to be in the 70s and 80s when it was still called the Lake Buena Vista Shopping Village, or Downtown Disney after that.
Of course there's nothing wrong with browsing and window-shopping, but there's a lot to see, and if you want to try and catch a little bit of all that Disney Springs has to offer, then you'll need to know what's there.
When planning a trip to the Walt Disney World Resort, it's essential to set aside plenty of time to explore the crazy amount of options you find at Disney Springs.
One of the best ways to experience Disney Springs is by dedicating a half-day or even an entire day of your vacation time to exploring the complex. This will allow you to take in all of the sights, sounds, and experiences that Disney Springs has to offer, without feeling rushed or stressed.
Here's a a general rule of thumb that me and my family use when we plan our vacations to the Walt Disney World Resort.
If your stay at the resort is longer than 4-5 days, I recommend that you dedicate one of those days, at least in part to Disney Springs.
One we've done that in the past is by planning dinner at Disney Springs either the first night we arrive, or having lunch before we would depart during the day on our last day we're in town.
This will allow you to fully immerse yourself in the vibrant atmosphere and enjoy all of the attractions and activities that the area has to offer.
Many families, like mine, choose to use a 'free day' in their vacation planning, which is set aside specifically for exploring Disney Springs and enjoying the amenities at the resort. This provides a great opportunity to take a break from the action-packed days spent exploring the theme parks and gives everyone a chance to unwind, relax, and enjoy the many shopping and dining options available.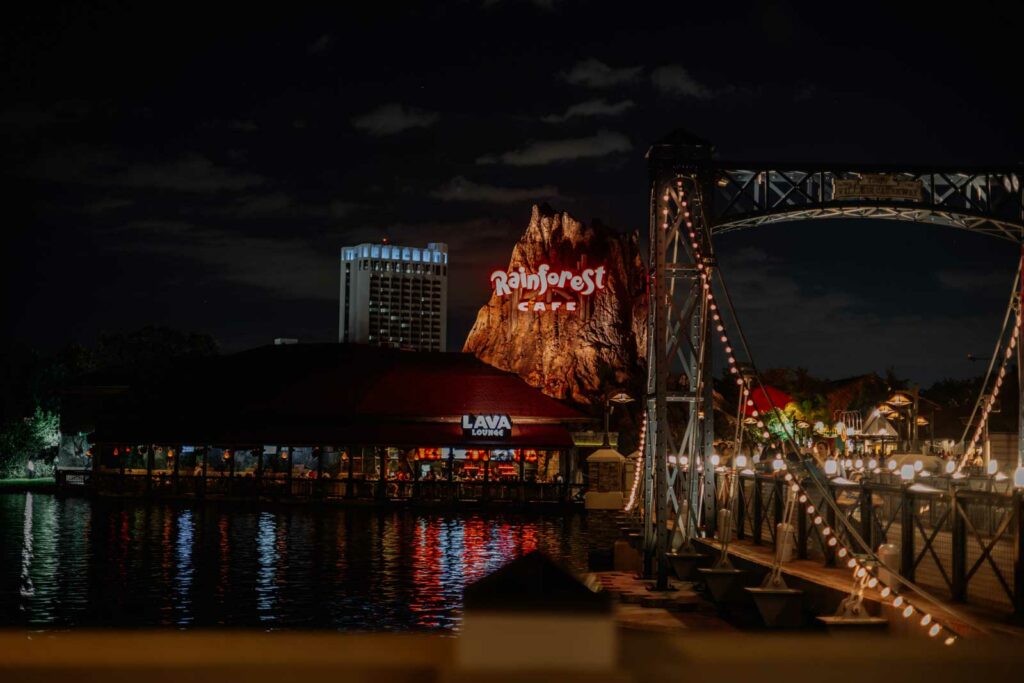 What to Expect at Disney Springs
Disney Springs offers a wide variety of shops, restaurants, and entertainment venues that cater to all interests. Whether you're a shopaholic, a foodie, or just looking for something fun to do, you'll find it at Disney Springs.
One of the great things about Disney Springs is that it's not part of any of the Disney World theme parks, so you don't need to worry about paying for tickets or parking – there is no fee or charge for visiting Disney springs.
Staying at a hotel in Walt Disney World provides the added benefit of free transportation to and from Disney Springs.
The complex is divided into four distinct areas: West Side, The Landing, Town Center, and Marketplace, each with its unique offerings of shopping, dining, and entertainment.
Each area has its own unique style, shopping, restaurants and entertainment offerings. West Side has an industrial feel, The Landing has waterfront views, Town Center is themed after Florida's turn-of-the-century waterfront towns, and Marketplace is family-friendly.
For shopping, you'll find a wide variety of options at Disney Springs, including the World of Disney, which is the largest Disney merchandise store in the world. There's also the Lego Store, which is always a hit with kids, and the Christmas Store, which is a must-visit during the holidays. If you're looking for something unique, check out the Marketplace Co-Op, which features a rotating selection of independent designers and artists.
When it comes to dining, Disney Springs has something for everyone. Popular options include Wolfgang Puck Express and Earl of Sandwich for quick bites, and Morimoto Asia and The BOATHOUSE for more upscale dining. For a fun and unique dining experience, check out T-Rex Cafe, which features animatronic dinosaurs and a prehistoric-themed atmosphere.
In terms of entertainment, Disney Springs has a lot to offer. You can catch a movie at AMC Disney Springs 24, bowl at Splitsville, or see a show at The House of Blues. For a more unique experience, check out Cirque du Soleil or Disney Quest, an interactive gaming experience.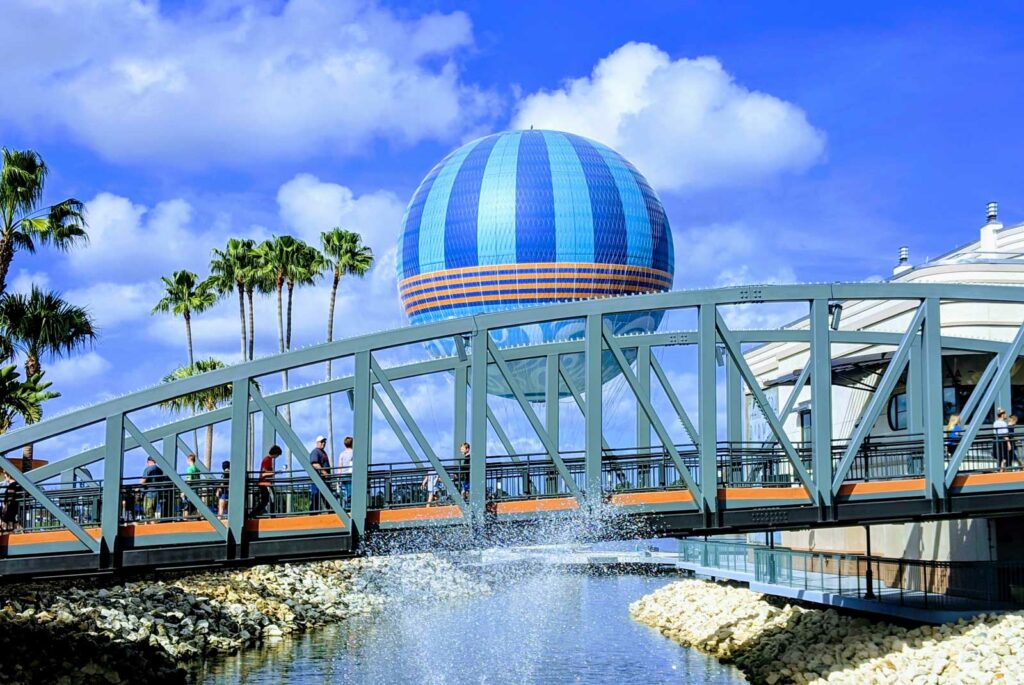 Sample Itinerary for your visit to Disney Springs
This is the way we usually do things when we're visiting Disney Springs. Of course, you can always do things however you please, this just gives you an idea of what's possible spending a day at Disney Springs.
| Time | Activity | Location |
| --- | --- | --- |
| 10:00am | Parking at Lime Garage | Lime Garage |
| 10:15am | Grab some coffee from Starbucks and shop at World of Disney | Marketplace |
| 11:30am | Having a Quick Bite at Earl of Sandwich | Marketplace |
| 12:00pm | Explore the Star Wars Trading Post & Marketplace shopping | Marketplace |
| 1:00pm | Visiting the Lego Store & shopping in The Town Center shops | Town Center |
| 2:00pm | Taking a Balloon Ride | The Landing |
| 4:00pm | Grab a cookie from Gideon's Bake Shop | The Landing |
| 5:00pm | Visit Planet Hollywood | Town Center |
| 6:00pm | Catch some live street music while waiting for your dinner reservation | West Side |
| 6:30pm | Have an amazing world-class dinner at STK | The Landing |
| 8:00pm | Catch the Drawn To Life Cirque Du Soliel show | West Side |
| 10:00pm | Wrapping up the day at Disney Springs | Lime Garage |

Tips for Visiting Disney Springs
Visiting Disney Springs is a great way to have a memorable day out with family and friends. In order to ensure the best experience, it's important to plan your visit by understanding how the area is structured and scheduling around entertainment, taking into account the weather while remembering to park near your last stop if you're driving. If you're taking one of the Disney resort busses then you need to remember that the bus stop is in the Marketplace near Earl of Sandwich on the opposite side from Cirque du Soliel.
Depending on the time of year, the best time to explore Disney Springs might be in the evening when the temperatures are a little cooler and when there are more events taking place.
As with virtually any restaurant on Disney property, if you want table service you're going to have to get a reservation. Sure, you can try to see if your chosen restaurant may be able to work you in, but I've found that's not really a good strategy as it's often just not possible.
While you're waiting for your reservation time, you can visit the Lego Store for toy ideas, search for interactive Living Statues for photo opportunities, go souvenir shopping at World of Disney for gifts or special items, and get your pictures taken at the PhotoPass Studio. With so much to see and do in Disney Springs it's important to create an itinerary (or at least put together a list of the places you want to go) so you can make sure not to miss anything.
Make sure that you allow plenty of time for each activity as well as allowing yourself some flexibility in case something comes up that interests you along the way. With careful planning, you will be sure to have an enjoyable time during your visit!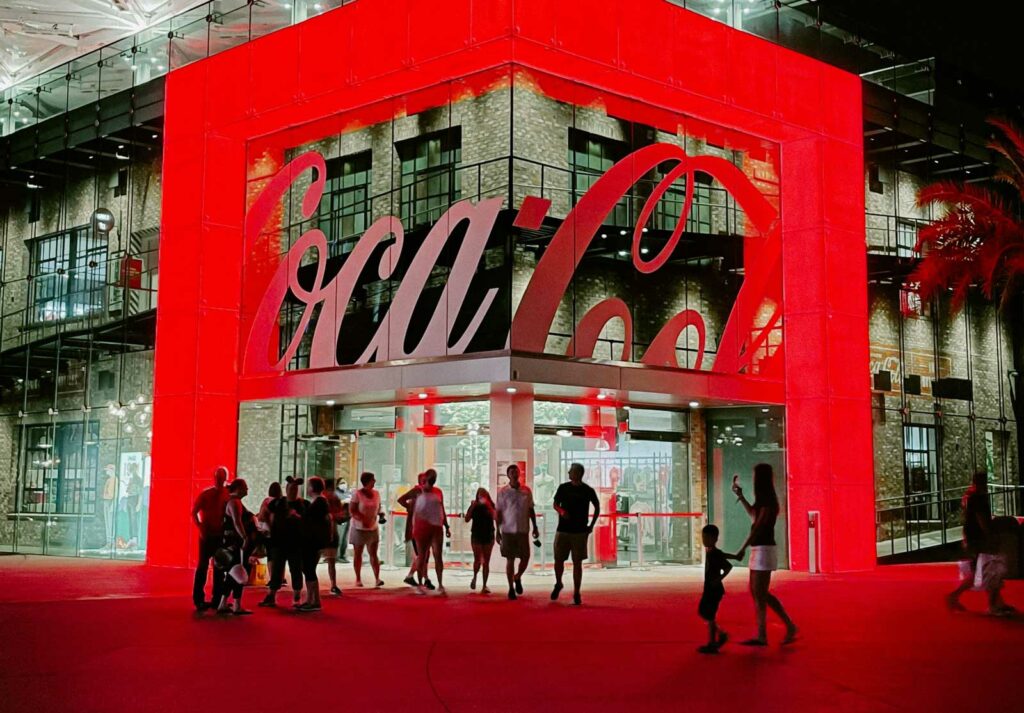 Is there anything for kids to do at Disney Springs?
Disney Springs is the perfect place for kids and families to spend a day of fun. In addition to its many shops and restaurants, there are plenty of kid-friendly activities and attractions that are sure to entertain.
In the Marketplace section of Disney Springs there is the Marketplace Train ride and a nearby splash pad. In addition, nearby, there is a Disney Pin Trading station where you can buy and trade pins with cast members.
The Lego store offers an array of interactive activities and displays, and the T-Rex Cafe has its own dig site where kids can do their own excavations and look for hidden archeological wonders.
Of course, no visit to Disney Springs would be complete without a trip through the World of Disney store, where you can find all your favorite Walt Disney World merchandise in one place.
How does peak season change things at Disney Springs?
When planning a visit to Disney Springs, it's important to consider the season and time of day that you are going. And not only the time of day, but the day of the week too.
Disney Springs gets crowded especially during the evening and night time as more people are going out for dinner and enjoying the cooler temps.
Weekends tend to get pretty crowded too as lots of locals like to come out and enjoy the atmosphere.
During peak season, such as summertime and around the holidays, there tends to be larger crowds which can lead to longer wait times for attractions and entertainment venues. This can also impact your experience in the shops and restaurants, as navigating through them may take more time.
I'm not always a fan of being shoulder to shoulder with thousands of people, so my preference is to try to go during times where I expect the crowds to be smaller. But I also really love Disney Springs at nighttime too!
If you're like me and would like to avoid long wait times and large crowds, plan your visit during off-peak hours. You're always going to need a dinner reservation for any table service restaurant, but if you're not doing table service, then there are great options, like our family tradition favorite, Earl of Sandwich (I can't tell you how many times we've eaten there). Having a backup plan in case certain activities or shops become too crowded is also wise.
Just remember these things and plan accordingly, realizing that things always change in one way or another, so be flexible so you can still enjoy your time!
Nexts Steps
The next step is connect with other Disney fans. Join the Disney Park Advisor Community group to connect with other Disney fans and get tips and advice on planning the perfect Disney vacation. This private Facebook group is the perfect place to share your love of all things Disney and get insider knowledge from other Disney enthusiasts. Simply click the link below to request membership and become a part of our community.